MONCKS CORNER — A 22-year-old caretaker has been arrested on allegations she struck a disabled man, breaking his nose, at a residential care facility. 
Keontae O. Gaddist was booked Sept. 7 into the Berkeley County jail on charges of abuse of a vulnerable adult and second-degree assault and battery.
The Ladson woman was released later that day after posting $25,000 bail. 
Gaddist is accused of striking an intellectually and physically disabled man in the face while working April 13 at Berkeley Citizens in Moncks Corner, according to S.C. Attorney General's Office spokesman Robert Kittle. 
The man was treated for a broken nose and blackened eye.
Berkeley Citizens is a residential care facility that serves those with intellectual disabilities and autism. The victim resided at the facility when the alleged assault happened, Kittle said. 
Berkeley County Sheriff's Office and the S.C. Medicaid Fraud Control Unit investigated the allegations, which were first reported by the man's relative.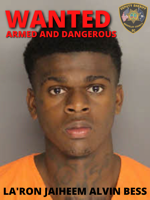 The Attorney General's Office will prosecute the case. 
Abuse of a vulnerable adult is punishable by up to 5 years in prison. Second-degree assault and battery carries a maximum sentence of 3 years.
Reach Steve Garrison at 843-607-1052. Follow him on Twitter @SteveGarrisonDT.